About Us
Education deals with the essence of what it means to be human. No undertaking is valueable, more sacred.
The school was founded in Jan 1988 as Ridge View School Janglot which was a garrison school run by Bde HQ. Orders for converting this school to Army School Janglot were received during the month of Jul 91. Since academic session was in progress, it was decided by the Managing Committee to bifurcate it into Army School Janglot and Ridge View School (for Nursery/KG sections) from the academic session 1992-93.
APS Janglot is affiliated to Central Board of Secondary Education and affilation No. is 730013.
School has classes from I to XII comprising of four sections each in classes XI to XII and four to six sections each in classes I to X. School has presently Science, Commerce and Humanities stream.
OUR MISSION
To inspire curiosity and discovery for success in a rapidly changing world. To achieve excellance in learning both with in the class room and beyond. To empower Teachers to guide childeren to construct knowledge. To bring an element of joy to the school surrounding which would nudge the child to grow into full bloom. We are here to Aspire, believe, explore and achieve.
VISION
To educate young minds and foster ethical, social and moral values through holistic learning to bloom into responsible global citizen and equip them to thrive in the REALITY of their Future.
OBJECTIVE
We want Teacher and Student to be
R — Responsible Citizen

E

— Effective Communicators

A

— Academically Prepared

L

— Life long Learners

I — Interpersonal Collaborators

T

— Thinking with Innovation

Y

— Yes Mind
School Environment.
The school has been able to provide a conducive environment with a sound support system to assist in learning as well as overall growth of the students. Certain facilities extended to students to aid their preparation are :-
(a) A well stocked library, with adequate no of refreshers & additional reference material for all subjects, as well as leisure reading & informative books .
(b) The school has well equipped Science lab, Computer labs, Computer Museum, Herbal Garden, Psychomotor Skills, Football Ground, Gym, Music Room, Yoga Room, Sports Room, Knowledge Centre, etc.
(c) A counsellor has also been appointed by the school to help students tackle various sorts of pressures and stress
(d) TAeL has been completely implemented in the school. All the classrooms have been fully equipped with TAeL. Projectors have been installed in all the sections of class I-V and EducompSmart classes in class VI-XII. All the teachers are in possession of their own laptops. Lesson plans are prepared and executed with the help of TAeL.
3 NOC from state: Yes by DEO, District: kathua(J&K)
NOC issuing Date 10 AUG 2007
4. Recognized by CBSE
5 Status of Affiliation Provisional
Affiliation No 730013(OLD)
780008(NEW)
Affiliation with Board since : Apr 2003
Extension of Affilation upto:
6. Name of the Society: Registered under the Socities Registeration Act XXI of 1860
as Army Welfare Education Society
7. List of members of school managing committee with their address/tenureand post hold:
S.No

Composition of School Management Committee

1

Chairman: Cdr 401(I) Arty Bde

2

Members:

a. Senior Staff Offr.

b. GE

c. Two parent Rep.

d. Two Teacher Rep

e. Two Educationists

f. Rep of President FWO

3

Secretary: Dr Vishakha Sharma, Principal, APS Janglot

4

Additional Members:

a. Dy Cdr of the Fmn

b. Adm Comdt

c. OC Sig Centre/Sig Officer

d. SO to Chairman
8
. Name of the Chairman
Cdr 401(I) Arty Bde
Designation Chairman, APS Janglot
Address HQ 401(I) Arty Brig, C/O 56 APO
Email chairmanapsjaglot@gmail.com
In Sq. Mtrs 56655.9896 Sq mtrs
Built up area 20654 Sq Mtrs
Area of Playground 13000 sq Mtrs
Library. The school has a well stocked library with more than 6262 books. During the fin year 2018-19 Rs 39880/- was spent for purchasing books. There is a wide reference section for teaching staff and students. For fin year 2019-20 Rs 250000/- has been planned for purchase of Books and Educational CDs. The school subscribes to both English & Hindi Magazines, Journals & News papers. Work on establishment of E-lib and making i-pad station in the library has been completed.
Laboratories. The school has well equipped labs for Phy, Chem, Biology and Social Science. A sum of Rs 250000/- has been planned for updation of these labs for the Fin Year 2019-20. During the fin year 2018-19 Rs 45084/- were spent for this purpose.
PHYSICS LAB CHEMISTRY LAB BIO LAB
Computer Education. The school is imparting Computer Edn to students from std I to X as a part of work experience. With the introduction of class XII in the school, Informatics Practices is being taught as Elective subject. School has 3 computer labs – one for senior students comprising of 20 machines and 1 Central Server. 2 Junior labs have 45 machines. During the fin year 2018-19Rs 224407/- was spent on TAL and Edu comp classes. Rs 186324/- has been planned for the year 2019-20 in the budget for this purpose.
SR COMPUTER LAB JR COMPUTER LAB-I JR COMPUTER LAB- II
Physical Edn. The school has the facilities for football, hockey, volleyball, badminton, basketball and table tennis room. School students participate in all Inter Army Public School competitions. During the fin year 2017-18 a sum of Rs 64921/- was spent on physical education and Rs 251960/- has been planned for the year 2018-19 in the budget for this purpose.
BASKET BALL COURT BADMINTON COURT VOLLEYBALL COURT
STADIUM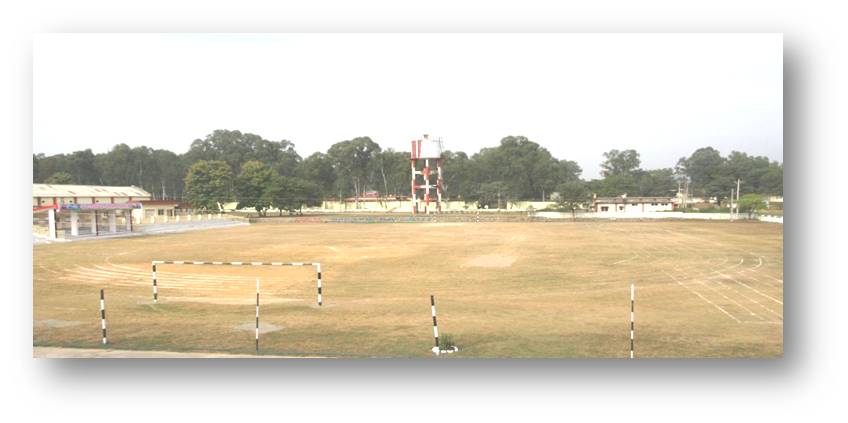 Co-curricular Activities. The school is divided into four houses namely Gandhi House, Indira House, Subhash House and Sarojini House to promote the spirit of healthy competition. Inter house competitions are organised every Friday. A large no of participants took part in the various events conducted in the academic session 2018-19.
A&C ROOM MUSIC ROOM
ACTIVITY PARK HERBAL GARDEN
10 DETAILS OF FEE STRUCTURE:
Ser No
Dues
Army Personnel including retired Offrs/JCOs & Civ paid out of Defence Estimates
Civ
Offr
JCO
OR
One Time
1
Registration Fees
600
600
600
1000
2
Admission Fee
1500
1500
1500
6000
3
Security (Refundable)
8000
8000
8000
15000
Total
10100
10100
10100
22000
Annual Fee
1
Library
300
300
300
600
2
Development Fund
600
600
600
1580
3
Exam & Stationery
400
400
400
800
4
Games & Sports
400
400
400
800
5
Play way / Lab Eqpt
120
120
120
240
6
School Journal
200
200
200
200
7
Comptr / Tael Fee
400
400
400
800
8
Digi Campus
60
60
60
60
9
Science / Social Science Fee
400
400
400
800
10
Insurance
120
120
120
120
TOTAL
3000
3000
3000
6000
Quarterly Fee (wef 01 Apr 2019 to 31 Mar 2020)
Class Ist to V
1
Tuition Fee
6000
5750
5500
9000
Class VI to X
1
Tuition Fee
6250
6000
5750
9375
Class XI to XII
1
Tuition Fee
6500
6250
ja
9750
Note:

1. Fee will be collected on quarterly basis from Ist - 20th day of the first month of every quarter (i.e from 1 - 20 Apr 19,

1 – 20 Jul 19, 01 - 20 Oct 19 and 1 - 20 Jan 2020) . The quarter months are April, Jul, Oct & Jan of every academic year.

2. Late fees. If fees are not paid by due date, late fee will be charged as under :-
(a) Upto 30th of the current month - Rs 20/-
(b) Upto 1 month - Rs 50/-
(c) Upto 2 month - Rs 100/-
(d) Upto 3 month - Rs 150/-
3. Parents are requested to deposit the above fee in HDFC Bank, Kathua before 20th of each quarters. From 1st to 20th (all working day) of each quarter, Bank staff will collect the fee at School premises and thereafter in the Bank premises.
4. If fees and fine are not paid for three consecutive months, the name of the student will be struck off the rolls and the students will revert back to their home.
11. TRANSPORT FACILITY :
OWN BUS ; NO
BUSES HIRED ON CONTRACT BASIS : NO
DETAILS OF TRANSPORT CHARGES : NIL
12. PARTICULARS OF TEACHING STAFF:
Ser No

Name of the employee

Designation

Remarks

1.

Dr Vishakha Sharma

Principal

2.

Mr Rajesh Singh

Vice Principal

PGTs

1

Mr Satish Kumar

Com

2

Ms Daisy Sharma

CS

3

Mr Gurnam Singh

PHE

4

Mrs Sushma Thakur

Bio

5

Ms Neha

Eco

6

Mr Jogesh Sharma

History

7

Ms Richa Sharma

Maths

8

Mr Sushil Bharti

Fine Arts

9

Mrs Rajni Verma

Phy

10

Ms Rashim Sharma

Eng

11

Ms Shefali Sharma

Chem

12

Mr Abhishek Bali

English

TGTs

13

Mrs Manjubala Sharma

Sr Coord

14

Mr

Geog

15

Ms Aarti Gupta

Maths

16

Mr Bikram Khajuria

Hindi

17

Mrs Sarbjeet Kaur

Bio

18

Mrs Pooja Garg

Maths

19

Mrs Rekha Khajuria

Hindi

20

Mrs Eina Sharma

Eng

21

Ms Soniya Kundral

Social Sc

22

Mr Surjit Singh

Science

23

Mr Anil Kumar

Social Sc

24

Mrs Shipaly Sharma

Maths

25

Ms Komal Dingra

Science

26

Mr Kulbir Singh

Social Sc

27

Mr Ravinder Kumar

Maths

28

Mr Sanjeev Kumar

Maths

29

Maths

30

Ms Manoti

Science
| | | | |
| --- | --- | --- | --- |
| Ser No | Name of the employee | Designation | Remarks |
| 31 | Ms Amarpreet Kour | Science | |
| 32 | Ms | Science | |
| 33 | Ms | Social Sc | |
| 34 | Mrs | Hindi | |
| 35 | Mrs Geeta Devi | Hindi | |
| 36 | Ms Shivali Rajput | Hindi | |
| 37 | Mr Sandeep Dhadwal | Cmptr | |
| 38 | Mrs Anita Sharma | Skt | |
| 39 | Mrs Neelam Kattru | Libn | |
| 40 | | Counsellor | |
| 41 | Mr Rajiv Sharma | Music | |
| 42 | Ms | Music | |
| 43 | Mr Savtanter Bhart | Art & Craft | |
| 44 | Ms | TGT (PET) | |
| 45 | Mr | PET | |
Ser No

Name of the employee

Designation

Remarks

PRTs

1

Mrs Taruna Sharma

Jr Coord

2

Mrs Geetanjali

PRT

3

PRT

4

Mrs Meenakshi

PRT

5

Mrs Renu Sharma

PRT

6

Mrs Sarbjit Kaur

PRT

7

Mrs Sukhwinder Kaur

PRT

8

Mrs Saroj Bala

PRT

9

Mrs Veena Sharma

PRT

10

Mrs Rachna Jamwal

PRT

11

Mr Kamal Kumar

PRT

12

Mr Bharat

PRT

13

Mrs Anu Bala

PRT

14

Mrs Pooja Bhat

PRT

15

Mrs

PRT

16

Mrs Niharika

PRT

17

Mr Charan Singh

PRT

18

Mrs Rekha Sambyal

PRT

19

Mrs Akshi Mahajan

PRT

20

Ms Cherry Pathania

PRT

21

Mrs Pooja Mahajan

PRT

22

Mrs Renu Bala

PRT

23

Mrs

PRT

24

Ms Neha Sharma

PRT

25

Mrs Rajni

PRT

26

Mrs Anit Kaur

PRT

27

Mrs Reena Rani

PRT

28

Ms Kumud Sambyal

PRT

29

Mrs Preetika Mansotra

PRT

30

Ms Rimpu Verma

PRT

31

Mrs Poonam Pathania

PRT
| | | | |
| --- | --- | --- | --- |
| Ser No | Name of the employee | Designation | Remarks |
| 32 | Ms Sheetal Sharma | PRT | |
| 33 | Mrs Shivangi | PRT | |
| 34 | Ms Amarjot Kour | PRT | |
| 35 | Mr | PRT | |
| 36 | Mrs | PRT | |
| 37 | Mrs Ananda Swami | PRT | |
| 38 | Ms | PRT | |
| 39 | Mrs | PRT | |
| 40 | Ms | PRT | |
| 41 | Ms | PRT | |
| 42 | Mrs | PRT | |
| 43 | Ms Shweta Bharti | PRT | |
| 44 | Ms Shavnam Sharma | PRT | |
| 45 | Mrs | PRT | |
| 46 | Mrs Shivali Sharma | PRT | |
| 47 | Mrs | PRT | |
| 48 | Ms | PRT | |
| 49 | Mrs | PRT | |
| 50 | Mrs | PRT | |
| 51 | Mrs | PRT | |
| 52 | Ms | PRT | |
| 53 | Mrs Kamni Kharbanda | PRT (CS) | |
| 54 | Mr Amit Sharma | PRT (CS) | |
| 55 | Mr Gurpreet Singh | PRT (CS) | |
| 56 | Mrs Ruchi Raina | PRT (PET) | |
| 57 | Mr | PRT (PET) | |
| 58 | Mr Ashwani Kumar | PRT (Yoga) | |
| 59 | Ms Sneh Sharma | PRt (Yoga) | |
| 60 | Ms Komdhi Rajput | PRT (A&C) | |
| 61 | Mr | PRT(PET) | |
| 62 | Mr SS Salaria | HC | |
| 62 | Mr Bishamber Das | UDC | |
| 63 | Mr Raman Sharma | Acct Clk | |
| 63 | Mr Jagdish Raj | Adm Supvr | |
| 64 | Mr Naresh Kumar | LDC | |
| 64 | Mrs | Receptionist | |
| 65 | Mrs | NA | |
| 66 | Mr Jai Karan | Lab Attd | |
| 67 | Mr | Lab Attd | |
| 68 | Mr Kuldeep Singh | Lat Tech | |
13. DETAILS OF SALARY BEING PAID BY THE SCHOOL TO TEACHING STAFF( rEGULAR oNLY):
14. MODE OF PAYMENT OF SALARY:
Name of the Bank through which salary is drawing : SBI, ADB KATHUA
(IFSC CODE: SBIN003233)
THOUGH SINGLE CHEQUE TRANSFER ADVICE : YES
Idividual Cheque: : NO
Cash: : NO
15 LIBRARY FACILITIES:
State of library books
:-
Held Added last Academic year
(a) English 5112 482
(b) Hindi 1110 88
(c) Others - -
(d) Total 6262 202
(e)
E-Books 16077 74
No of newspapers/magazines/Journals being subscribed to. : 41
Magazines - 32
News papers - 09
Journal - 02
16 Name of the Grievance/Redressal Officer : Chairman, APS Janglot
Email : chairmanapsjanglot@gmail.com
17 Members of sexual Harassment
Committee : Principal
Mr Rajesh Singh( Vice Principal)
Mrs Manju Bala Sharma (Coordinator Sr Wing)
Mrs Taruna Sharma
(Coordinator Jr Wing)
Mr Bikram Khajuria (TGT- Hindi)
Mrs Geetanjali Sharma(PRT)
18 Sectionwise enrolment of the scholl for the current session:
Ser No
Class
No. of sec.
Grand Total
(a)
(b)
(c)
(d)
1
I
7
262
2
II
7
270
3
III
8
292
4
IV
7
264
5
V
7
271
6
VI
6
250
7
VII
5
198
8
VIII
6
216
9
IX
6
220
10
X
5
180
11
XI
4
129
12
XII
3
90
TOTAL
71
2642
19 Academic session period : From 1st April to 31st Mar
20 Vacation Period : From June to July
21 Admission Period : From 1st April to 31 June
Thought for the day :
Live as if you were to die tomorrow. Learn as if you were to live forever. By Mahatma Gandhi